Tile Talk Newsletter - January 2011
Project Pick: Rust Capuchinas Backsplash
>> View Design Idea
Antigua Colonial Rust Capuchinas relief tiles are an eye-catching backsplash in this bathroom because there is both texture and variation in color tone.
The glaze reacts differently to the tile's texture, leaving a satin gloss finish on the flat areas; matte on the relief.
Antigua Colonial Capuchinas 6"x6" tiles in three different glazes:
Green Rust Sand Do you want to know how these relief tiles are made? Gain a deeper appreciation for the craftsmanship that is required to create each tile by hand, one at a time:
>> Blog Post: How Relief Tiles are Made
Ring in the New Year - SAVE 15% When You Spend $200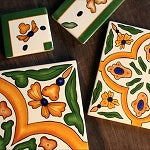 Barcelona San Jose To help you start the New Year right, receive 15% off all online tile purchases when you spend $200 or more. Just place your order online before January 31, 2011.

Use coupon code: CHEERS during checkout. This offer is good for any online order!

>>Blog Post: Tile Ring in the New Year
Design Challenge Question & Five Different Designs
Do you know why you should never put molding directly against the ceiling in the shower? Find a tile you love but aren't sure how to design with it? It's cold out, we all get "brain-freeze."
Find the answer to these important questions and see five different designs using only 6"x6" field tile and trim. See the versatility of using basic tile formats to create different designs to suit a variety of lifestyles.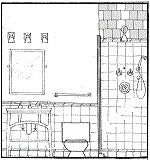 >> Blog Post: Tile Designs for those "Brain-Freeze" Moments